Ellen Wood - A Biographical Sketch

(A brief outline of Wood's life and writing career)
Compiled by Michael Flowers ©2001-2006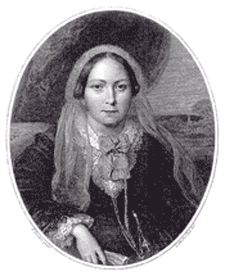 Mrs Henry Wood - the miniature by Easton taken from Memorials (1894).
Mrs. Henry Wood was the pen-name of Ellen Wood (née Price), one of the best-selling authors of the second half of the nineteenth-century. She first became famous as the author of East Lynne (1861) – one of the most successful of the sensation novels of the 1860s. Wood followed her initial triumph with thirty more novels, and over a hundred short stories, most containing elements of mystery, crime, detection and suspense. Wood also edited the highly successful Argosy magazine from 1867 until her death some twenty years later.

            Ellen Price was born in Worcester in 1814, the eldest daughter of a glove-manufacturer and his imaginative wife. Ellen was raised by her paternal grandparents, but at the death of her grandfather when she was seven she was returned to the family home. Wood started writing in childhood, but she destroyed these early compositions, which included poetic lives of Lady Jane Grey and Catherine de Medici.

            Wood suffered from several childhood ailments; the most serious being a severe curvature of the spine which was first noticed when she was thirteen. She had to spend days at a time on a reclining board or couch, but as she had access to books she remained in good spirits. Wood's affliction affected her growth and she remained under five feet in height. She was also left devoid of muscular power and could never "carry anything heavier than a small book or parasol." Many subsequent novels were written in a reclining chair with the manuscript on her knees, or later in a specially designed chair which enabled her to write at a table.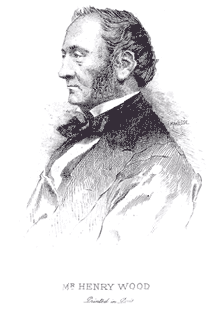 Henry Wood - an engraving made in Paris taken from Memorials (1894).
            At the age of twenty-two she married Henry Wood, the head of a large banking and shipping firm and someone who had been involved in consular affairs. The first twenty years of her married life were spent in France. Wood is known to have given birth to two daughters (one of whom died in infancy from scarlet fever) and at least three sons. One of her sons, Charles, became Wood's partner at the Argosy magazine, and wrote the only, but highly inadequate, biography of his mother.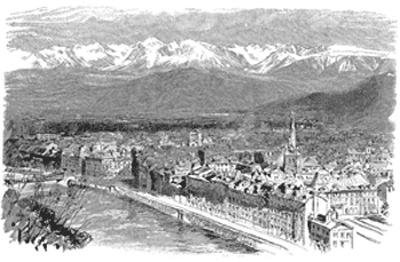 The Banks of the Isère, Dauphiné.
            It was whilst living in France, that Wood began to contribute short stories, almost on a monthly basis, to the New Monthly Magazine, edited by the novelist Harrison Ainsworth. Her first known story, 'Seven Years in the Wedded Life of a Roman Catholic' was published in the issue for February 1851. In 1855 Ainsworth also began to edit Bentley's Miscellany, and Wood contributed many short pieces to this journal in addition to the ones she was already providing for the New Monthly.

            Initially, Wood seems to have written merely for the pleasure of seeing her stories in print, but around 1856 Henry Wood suffered some business failure. The exact circumstances are vague, but the couple and their children returned from France to live in rented rooms in Upper Norwood. The Woods were now short of money, and the little remuneration Wood received for her monthly stories was no longer sufficient. Wood is said to have asked Ainsworth to allow her to write a novel for one of his journals, but he did not want to disturb the status quo.

            Eventually, Wood forced Ainsworth's hand. A friend showed her an advertisement offering £100 for a novel which best exemplified the principles of temperance. Although much of the 28-day limit had already expired, Wood planned and wrote her book in time to meet the deadline. Her novel, Danesbury House, won the prize and her name became known. This book, first published in 1860, was in print for the remainder of the nineteenth-century, but with the prize money went the book's copyright - she never received another penny from its huge sales.

            Wood's success with Danesbury House, showed Ainsworth that she could write full length novels, and he agreed to accept one for the New Monthly. East Lynne began its serialisation in January 1860 and continued until the final instalment in September 1861. Even before the story was completed Wood began to consider its appearance in book form. The manuscript was sent to Chapman and Hall, but their reader, the novelist George Meredith, recommended that it be declined. Smith and Elder also turned down the book. However, Richard Bentley accepted the novel for publication, and East Lynne duly appeared in three volumes in the autumn of 1861.

            There was a warm early review of the novel in The Athenaeum, but it was an ecstatic review in The Times, early in 1862, which seems to have drawn the book to the attention of a wider public. East Lynne had been issued in at least five editions by the end of 1862, and Wood's literary career was successfully launched. 1862 also saw the publication in three volumes of The Channings and Mrs. Halliburton's Troubles. These novels were less melodramatic than East Lynne, and were set in the Cathedral town of 'Helstonleigh' – Wood's alias for Worcester. Despite their quieter tone, these two novels successfully allied a domestic setting with mysterious disappearances, theft and duplicitous conduct.

             1862 was also the year in which Wood contributed A Life's Secret anonymously to The Leisure Hour. Initially, A Life's Secret appears to be one of the fashionable bigamy novels, but later becomes an attack on what she saw as unscrupulous Trade Unionists. The serialisation of A Life's Secret led to a riot and the publisher's offices were threatened with violence if they withheld the name of the unknown author. Wood's secret was kept and the building escaped destruction, but A Life's Secret was not published in book form in England for a further five years. However, the first book edition did appear in 1862 – in the United States.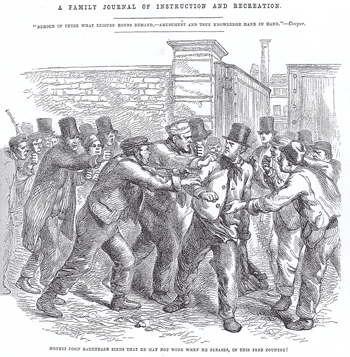 An illustration from the original serialisation of A Life's Secret.
            The early 1860s were a very busy time for Wood, and her son admits that she accepted too many commissions without realising the work that these would involve. The Shadow of Ashlydyat appeared in instalments during 1863 in the New Monthly at the same time as Verner's Pride was appearing in Once a Week. A short children's novel William Allair; or Running Away to Sea was published in 1864, in addition to the traditional three-deckers: Lord Oakburn's Daughters and Oswald Cray. Reviewers began to criticise Wood for over-production. However, several of her novels were not as hastily written as many critics have supposed. Large sections of A Foggy Night at Offord (1863), Mildred Arkell (1865), St. Martin's Eve (1866) and The Red Court Farm (1868) had already appeared in either the New Monthly or Bentley's Miscellany before she was famous.

            Charles Wood clearly states, in his biography of his mother, that Henry Wood died during the serialisation of Oswald Cray in Good Words which appeared throughout 1864. However, in an article written immediately after the death of his mother, he states that his father died in 1866. It is this later date which is accepted by every subsequent reference work. The reason for Charles Wood's discrepancy has never been explained. Whichever date is correct Henry Wood was dead before the commencement of a new phase in his wife's literary career.

            In 1866 the reputation of the recently-established Argosy magazine was damaged by the serialisation of Charles Reade's sexually frank tale of bigamy - Griffith Gaunt. The strait-laced publisher, Alexander Strahan, was horrified by the backlash and sold the magazine in October 1867 to Wood. In December 1867 the first chapters of Wood's new novel, Anne Hereford, began to appear. From this time onwards Wood serialised almost all of her new novels in the Argosy, usually from the January until the following December. The three-volume book publication normally followed in the late autumn of the same year. In January 1868 Wood also began to publish her anonymous Johnny Ludlow tales in the Argosy, which initially appeared almost on a monthly basis. These are probably her best contributions to her own magazine and were very popular with readers and other writers. A more in-depth discussion of these stories appears elsewhere on this website.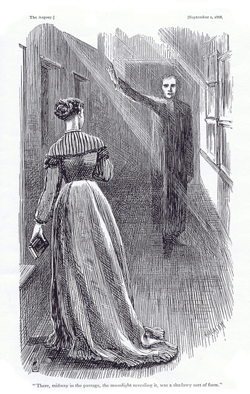 An illustration from the serialisation of Anne Hereford.
            Anne Hereford is rather unusual among Wood's novels as it takes the form of a first-person narrative. It is a tale of a lonely young orphan in a gloomy mansion, and shares many similarities with Jane Eyre. Anne Hereford was followed in 1869 by Roland Yorke. This was a sequel to The Channings and concerns a suspected suicide, which eventually turns out to be a murder, and the various suspects who might have been involved in the death. Wood's faintly sinister Scotland Yard detective, Butterby, is as ineffectual in this story as he was in solving the theft of £20 in The Channings. Bessy Rane was serialised in 1870, and Wood returned to her Worcestershire roots with Dene Hollow in 1871. Another enjoyable novel with strong detective elements, Within the Maze, followed in 1872. However, whilst Wood was writing The Master of Greylands in 1873 a disruption to the steady stream of novels occurred.

            In January 1873 Wood felt exhausted and left London for a seaside resort in Kent. She could only manage to write for a maximum of an hour-and-a half a day, but after three months she was nearing completion. Towards the end of this time the town was gripped with typhoid and many inhabitants died. Foolishly Wood stayed and seems to have contracted diptheria. She was very ill and was even believed close to death. After a lengthy convalescence she eventually recovered, but never managed to regain her previous fairly robust, but always precarious good health. 1874 was the first year since 1860, in which a new novel by Wood failed to appear. In 1875 the novella, Parkwater, was serialised in the Argosy, but this was not an original work of fiction. The story was a rewritten form of a tale which had appeared during 1857 in the New Monthly Magazine.

            The Johnny Ludlow stories continued to appear at a slightly less frequent rate in the Argosy, but new Wood three-deckers were even more scarce. Edina was serialised in 1876, but no new novel followed in 1877. Pomeroy Abbey appeared throughout 1878, but again parts of this 'romance' had already been printed in the New Monthly Magazine nearly twenty years earlier. It was to be a further three years before Court Netherleigh began to emerge – parts of which had appeared in Bentley's Miscellany in 1856. An even longer gap followed before Lady Grace commenced its serialisation in the January 1887 issue of the Argosy. Although Wood was becoming less productive in her final decade, Charles boasted that in these years her books were still earning her between five and six thousand pounds a year.

            Wood caught a bronchial cold on Christmas Eve 1886, and after a Christmas Day in which she struggled downstairs to be with her family she retired to her bed. She managed to throw off her cold three days later, but her doctor advised her against the least exertion. A month of breathlessness followed. It was subsequently believed that her lifelong curvature of the spine was beginning it interfere with the workings of the heart. Wood died on the 10th of February 1887. She was buried in Highgate Cemetery six days later. Her husband was disinterred to lie beside her and an impressive tomb based on a Roman original marks her final resting place.

            Wood died leaving two completed Johnny Ludlow novellas, and a short story to be published posthumously. She must have been working on more of her earlier magazine stories, because two of these expanded to novel length also appeared. The Story of Charles Strange was serialised in the Argosy during 1888, whilst The House of Halliwell followed in 1890. Both of these had originally been published in Bentley's Miscellany during the 1850s. Some short stories appeared in the Argosy between 1892 and 1897, and these were collected in 1897 as Ashley & Other Stories. Wood's oeuvre was completed in 1899 when Johnny Ludlow. Sixth Series appeared.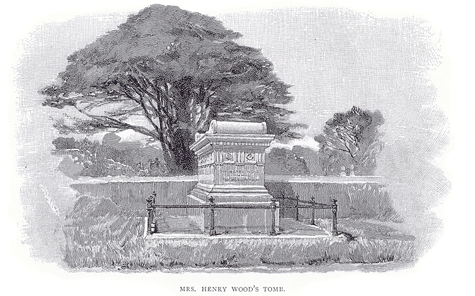 The tomb of Mrs Henry Wood - taken from Memorials. (1894)

Sources:
Rolf Burgauer, Mrs. Henry Wood: Personlichkeit und Werk, Zurich: Juris-Verlag, 1950.
Malcolm Elwin, Victorian Wallflowers, London: Jonathan Cape, 1934.
Andrew Maunder (ed.), East Lynne, Ontario: Broadview Literary Texts, 2000.
Norman Page & Kamal Al-Solaylee, (eds.), East Lynne, London: Everyman, 1994.
Michael Sadleir, Nineteenth-Century Fiction, Cambridge: CUP, 1951.
John Sutherland, The Longman Companion to Victorian Fiction, Longman: London, 1989.
Robert Lee Wolff, Nineteenth-Century Fiction, New York: Garland, 1986.
Charles W. Wood, "Mrs. Henry Wood: In Memoriam", Argosy April - June 1887, pp.251-70, 334 -53, 422 - 442.
Charles W. Wood, Memorials of Mrs. Henry Wood, London: Bentley, 1894.
The Literary Encyclopedia have kindly granted permission for a link to their site which includes a very thorough biographical essay by Dr. Andrew Maunder. To view this follow the link below and click on "Single Author" and enter "Wood" into the search engine. Mrs Henry Wood is listed as "Ellen Wood (1814-1887)".