by Adeline Sergeant

            The art of the raconteur, pure and simple, is apt to be undervalued in our days. A rage for character-painting, for analysis, for subtle discrimination, down to the minutest detail, has taken hold upon us; and although we have lately returned to a taste for adventure of the more stirring kind, there is still an underlying conviction that the highest forms of literary art deal with mental states and degrees of emotions, instead of with the ordinary complications of everyday life. Hence the person who is gifted simply with a desire (and the power) of telling as story as a story, with no ulterior motive, with no ambition of intellectual achievement, the Scheherazade of our quiet evenings and holiday afternoons, is apt to take a much lower place in our estimation than she deserves.

            This is especially the case of Mrs. Henry Wood. It is impossible to claim for her any lofty literary position; she is emphatically un-literary and middle-class. But she never has cause to say, "Story? God bless you, I have none to tell, Sir," for she always has a very distinct and convincing story, which she handles with a skill which can perhaps be valued only by the professional novelist, who knows the technical difficulty of handling the numerous groups of characters which Mrs. Wood especially affects. There is no book of hers which deals - as so many novels deal - with merely one or two characters. She takes the whole town into her story, wherever it may be. We not only know the Lord-Lieutenant and the High Sheriff and the Squire, but we are intimate (particularly intimate) with the families of the local lawyer and doctor. We are almost equally well acquainted with their bootmaker and greengrocer, while their maids and their grooms are as much living entities to us as if they had served us in our own houses. To take a great group of dramatis personae, widely differing in circumstances, in character, in individuality; to keep them all perfectly clear without confusion and without wavering; to evolve from them some central on which the attention of the subsidiary characters shall be unavoidably fixed, and to weave a plot of mystery, intrigue, treachery or passion which must be resolved to its ultimate elements before the last page of the book - to do all this is really an achievement of which many a writer, who values himself on his intellectual superiority to Mrs. Henry Wood, might well be proud. It is no more easy to marshal a multitude of characters in the pages of your book than to dispose bodies of soldiers in advantageous positions over an unknown country. The eye of a general is in some respects needed for both operations, and the true balance and proportion of a plot are not matters which come by accident or can be accomplished without skill. It may not be literary skill, but it is skill of a kind which deserves recognition, under what name soever it may be classed.

            Mrs. Henry Wood was born in Worcestershire in 1814, and died in London in 1887. She suffered from delicate health and passed the greater part of her life as an invalid. She was the daughter of Mr. Thomas Price, one of the largest glove manufacturers in the city of Worcester. She married Mr. Henry Wood, the head of a large banking and shipping firm, who retired early from work and died comparatively young. It was not until middle life that Mrs. Wood began to write; and her first work [1*], - perhaps, of all her works, the most popular - was "East Lynne," which first appeared in Colburn's New Monthly Magazine. Its success was prodigious and it is still one of the most popular novels upon the shelves of every circulating library. It has been translated into many languages and dramatised in different forms. It was published in 1861, and reached a fifth edition within the year.

            Amongst her most popular works also are "The Channings" and Mrs. Halliburton's Troubles," 1862; "The Shadow of Ashlydyat," 1863; "St. Martin's Eve," 1866; "A Life's Secret," 1867; "Roland Yorke," a sequel to "The Channings," 1869; "Johnny Ludlow," stories reprinted from the Argosy, 1874 to 1885[2*]; "Edina," 1876; "Pomeroy Abbey," 1878; "Court Netherleigh," 1881; and many other stories and novels. Mrs. Wood was for many years the editor of the Argosy.

            The reason of the popularity of "East Lynne" is not far to seek. It is to begin with, a very touching story; and its central situation, which in some respects recalls the relation of the two women in Mrs. Crowe's "Linny Lockwood," is genuinely striking. It is perhaps not worth while to argue as to its probability. It is, of course, barely possible that a woman should come disguised into the house where she formerly reigned as mistress, and act as governess to her own children, without being recognised. As a matter of fact, she is recognised by one of the servants only on account of a momentary forgetfulness of her disguise. Her own husband, her own children, do not know her in the least; and although he and his kinswoman are vaguely troubled by what they consider a chance resemblance, they dismiss it from their minds as utterly impossible, until the day when lady Isabel, dying in her husband's house, begs to see him for the last time. The changes in her personal appearance, her lameness, for instance, and the greyness of her hair, are very ingeniously contrived; but it certainly seems almost impossible that two or three years should have so completely changed her that nobody should even guess at her identity.

            The present generation complains that the pathos of the story is overdone; but even if detail after detail is multiplied, so as to harrow the reader's feelings almost unnecessarily, the fact still remains that Mrs. Wood has imagined as pitiful and tragic a situation as could possibly exist in the domestic relations of man and woman. The erring wife returning to find her husband married to another woman, to nurse one of her own children through his last illness without being recognised by him or by her husband, and to die at last in her husband's house with the merest shadow of consolation in the shape of his somewhat grudging forgiveness, presents us with a figure which cannot fail to be extremely pathetic.

            The faults of Mrs. Henry Wood's style, its occasional prolixity and common-placeness, the iteration of the moral reflections, as well as the triteness and feebleness sometimes of the dialogue, very nearly disappear from view when we resign ourselves to a consideration of this tragic situation. It cannot be denied that there is just a touch of mawkishness now and then, just a slight ring of false sentiment in the pity accorded to lady Isabel, who was certainly one of the silliest young women that ever existed in the realms of fiction. Nevertheless the spectacle of the mother nursing the dying boy, who does not know her, is one that will always appeal to the heart of the ordinary reader, and will go far to account for the extraordinary appeal of "East Lynne."

            A novelist of more aspiring genius would perhaps have concentrated our attention exclusively upon Lady Isabel's feelings and tragic fate. Here Mrs. Wood's failings, as well as her capacities, reveal themselves. She sees the tragic side of things, but she sees also (and perhaps too much) the pathos of small incidents, the importance of trifles. She spares us no jot of the sordid side of life. And in a novel of the undoubted power of "East Lynne" there are some details which might have been spared us. The rapacity of the creditors who seize the body of Lady Isabel's father, the gossip of the servants, the suspicions of Afy Hallijohn, and, in short, almost all the underplot respecting Richard Hare - these matters are superfluous. The reader's eye ought to be kept more attentively upon the heroine and her relations with Mr. Carlisle and Sir Francis. The one inexplicable point in the story is Lady Isabel's desertion of her husband for a man whom she must despise. It is never hinted that she had for one moment lost her heart to Francis Levinson. She left her husband out of sheer pique and jealousy loving him ardently all the while, although, in her ignorance and folly, she scarcely knew that she loved him. Here the story is weak. We feel that Mrs. Wood sacrifices probability in her effort to obtain a striking situation. For the strongest part of "East Lynne" is the description of what occurs when lady Isabel returns as a governess to her old home, when her husband, supposing her to be dead, has married his old love Barbara Hare. To this situation, everything is subordinate; and it is in itself so strong that we cannot wonder of the author strains a point or two in order to achieve it.

            But the curious, the characteristic, thing is that even in this supreme crisis of the story, Mrs. Wood's essential love of detail, and of somewhat commonplace detail, asserts itself over and over again. The incidents she takes pains to narrate are rational enough. There is no reason why pathos should be marred because a dying child asks for cheese with his tea, or because the sensible stepmother condemns Lucy to a diet of bread and water for some trifling offence, or because Miss Cornelia Carlisle displays her laughable eccentricities at Lady Isabel's bedside. The pathos is married now and then, not because of these trifling yet irritating incidents, but because we get an impression that the author has forced a number of utterly prosaic people into a tragic situation for which they are eminently unfitted. The ducking of Sir Francis Levison in the horsepond is an example of this. The man was a heartless villain and murderer, yet he is presented to us in a scene of almost vulgar farce as part of his retribution. If the author had herself realised the insufficiency of her characters to rise to the tragic height demanded of them; she might have achieved either satire or intense realism; but there is a certain smugness in Mrs. Henry Wood's acceptance of the commonplaces of life which makes us feel her an inadequate painter of tragedy. We close the book with a suspicion that she preferred the intolerable Barbara to the winsome and erring Lady Isabel.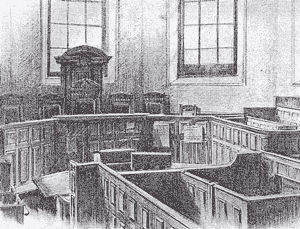 Assize Court, in which Sir Francis Levison was
                                                     tried for the murder of Hallijohn in "East Lynne".

            "East Lynne" owes half its popularity, however, to that reaction against inane and impossible goodness which has taken place since the middle of the century. Just as Rochester and Paul Ferroll are protests against the conventional hero, so Lady Isabel is a protest against the conventional heroine - and a portent of her time! We were all familiar with beauty and virtue in distress, from Clarissa Harlowe downwards. It is during later years that we have become conversant with beauty and guilt as objects of our sympathy and commiseration.

            The moralists of the time - Saturday Reviewers, and others - perceived the change from one point of view, and were not slow to comment on it. Their opposition to the modern novel was chiefly based upon what they called a glorification of vice and crime. Now that the mists of prejudice have cleared away, we can see very well that no more praise of wrongdoing was implied by Mrs. Wood's portrait of Lady Isabel than by Thackeray's keen-edged delineation of Becky Sharp or George Eliot's sorrowful sympathy with Maggie Tulliver. What was at first set down as a new revolutionary kind of admiration for weakness and criminality soon resolved itself into a manifestation of that remarkable Zeit-Geist which had made itself felt in every department of human life. It is that side of the modern spirit which leads to the comprehension of the sufferings of others, to a new pity for their faults and weaknesses, a new breadth of tolerance, and a generous reluctance to judge harshly of one's fellow man. It has crept into the domain of law, of religious thought, of philanthropic effort, and it cannot be excluded from the realms of literature and art. It is, in fact, the scientific spirit, which says "there's nothing good or ill but thinking makes it so;" which refuses to dogmatise or hastily to condemn; which looks for the motives and reasons and causes of men's actions, and knows the infinite gradations between folly and wisdom, between black and white, between right and wrong. If science had done nothing else, it would be an enormous gain that she should teach us to suspend our judgment, to weigh evidence, and thus to pave the way for that diviner spirit by which we refuse to consider any sinner irreclaimable or any criminal beyond the reach of human sympathy.

            "East Lynne" was received with general acclamation, and has been translated, it is said, into every known tongue, including Parsee and Hindustanee. "Some years ago," her son states, "one of the chief librarians in Madrid informed Mrs. Henry Wood that the most popular book on his shelves, original or translated, was 'East Lynne.' Not very long ago it was translated into Welsh and brought out in a Welsh newspaper. It has been dramatised and played so often that the author received a small royalty from every representation it was long dramatised and played so often that had the author received a small royalty from every representation it was long since estimated that it would have returned to her no less than a quarter of a million sterling, but she never received anything…..In the English Colonies the sale of the various works increased steadily year by year. In France the story has been dramatised and is frequently played in Paris and the provinces." On its first appearance, an enthusiastic review in the Times produced a tremendous effect upon the public; the libraries were besieged for copies, and the printers had to work night and day upon new editions. In fact the success of "East Lynne" was one of the most remarkable literary incidents of the century.

            The most popular of Mrs. Henry Wood's books, next to "East Lynne," seem to be "Mrs. Halliburton's Troubles" and "The Channings." These are stories of more entirely quiet domestic interest than "East Lynne." The situations are less tragical and the plots less complicated. Mrs. Halliburton's quiet endurance of the privations and difficulties of her life, the pathetic life and death of her little Janey, and the ultimate success and achievements of her sons, linger in the memory of the reader as a pleasant and homely picture of the vicissitudes of English life.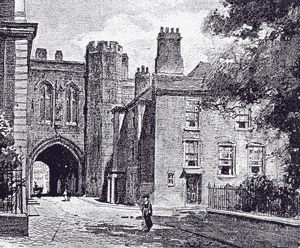 Edgar Tower, and the residence of the Channings on the right.

            There is a more humorous element in "The Channings," from the introduction of so many youthful characters - the boys of the Cathedral school, notably Bywater, who is the incarnation of good-humoured impudence, giving brightness to the tone of the story. The schoolboys are in this, as in many other of Mrs. Wood's novels, particularly well drawn. They are not prigs; they are anything but angels, in spite of their white surplices and their beautiful voices; and their escapades and adventures in the old cloisters were wild enough to make the old monks turn in their graves. No doubt many incidents of this kind were drawn from life and owe their origin to Mrs. Wood's acquaintance with the Choir School belonging to Worcester Cathedral.

            It was not the only occasion on which the manufacturer's daughter turned her knowledge of Worcester to good account. It may be said that the majority of her novels are coloured, more or less, by the author's lengthy residence in a cathedral town. It was in 1874 that the first series of short stories, supposed to be narrated by Johnny Ludlow, began in the Argosy [3*]. Johnny Ludlow is a young lad belonging to a Worcestershire family, who is supposed to narrate incidents which have come under his observation at school or at home. Some of the stories thus produced are striking and vigorous; others are of less merit, but all are distinguished by the strong individuality of the characters, and by the fidelity with which Worcester and Worcestershire life are described. It now seems extraordinary that there should have been the slightest doubt as to the authorship of the stories, for Mrs. Wood's peculiarities of style are observable on every page. Mr. Charles W. Wood, her son, remarks that "no one knew, or even guessed at, the authorship;" but this is a rather exaggerated statement, as we have reason to be aware that the author was recognised at once by critics of discrimination. Still the general public were for some time deceived, imagining Johnny Ludlow to be a new author, whose stories they occasionally contrasted with those of Mrs. Henry Wood, and were said to prefer, probably much to the novelist's own amusement.

            The great variety of plot and incident found in the "Johnny Ludlow" stories is their most remarkable feature. The same characters are, of course, introduced again and again, as Johnny Ludlow moves in a circle of country squires, clergy, and townspeople. But it is astonishing with how much effect the stories of different lives can be placed in the same setting, and with what infinite changes the life of a country district can be reproduced. The characters are clearly drawn and often very well contrasted, and no doubt Mrs. Henry Wood's memories of her earlier life in the district contributed largely to the success of this series. The First series ran in the Argosy and were re-printed, 1874-1880, while a second and third series maintained their popularity in 1881 and in 1885 [4*].

            It has been computed that Mrs. Wood wrote not fewer than from three to four hundred short stories, every one of them with a distinct and carefully worked-out plot, in addition to nearly forty long novels: a proof, if any were wanted, of the extreme fertility of her imagination and the facility of her pen.

            It has, however, sometimes been wondered why Mrs. Henry Wood's works should have attained so great a circulation when they are conspicuously wanting in the higher graces of literary style or intellectual attainment. The reason appears to lie chiefly in certain qualities of her writings which appeal in a highly creditable way to the heart and mind of the British public. Mrs. Wood's stories, although sensational in plot, are purely domestic. They are chiefly concerned with the great middle-class of England, and she describes lower middle-class life with a zest and a conviction and a sincerity which we do not find in many modern writers, who are apt to sneer at the bourgeois habits and modes of thought found in so many English households. Now the bourgeoisie does not like to be sneered at. If it eats tripe and onions, and wears bright blue silk dresses, and rejoices in dinner-tea, it nevertheless considers its fashions to be as well worth serious attention as those of the Upper Ten. Mrs. Henry Wood never satirises, she only records [5*]. It is her fidelity to truth, to the smallest domestic detail, which has charmed and will continue to charm, a large circle of readers, who are inclined perhaps to glory in the name of "Philistine."

            Then there is the loftier quality of a high, if somewhat conventional, moral tone. Mrs. Wood's novels are emphatically on the side of purity, honesty, domestic life and happiness. There is no book of hers which does not breathe this spirit, or can be said to be anything but harmless. Her character-drawing has merit; but it is not to be wondered at, considering the number of works she produced, that she should repeat the same type over and over again with a certain monotonous effect. The sweet and gentle wife and mother, not too strong in character, but perfectly refined and conscientious, such as Maria in the "Shadow of Ashlydyat"; the "perfect gentleman," noble, upright, proud, generally with blue eyes and straight features, like Oswald Cray, and Mr. Carlisle and Mr. North - these are characters with which we continually meet and of which, admirable in themselves as they are, we sometimes weary. But although the portraiture is not very subtle, it is on the whole faithful to life.

            Then there is that especial group of Mrs. Wood's stories already mentioned, into which an element of freshness, then somewhat unusual in fiction, is largely introduced. These are the stories which have much to do with boys and boy-life - notably "The Channings," "Roland Yorke," "Orville College," "Mrs. Halliburton's Troubles," "Lady Grace," and the "Johnny Ludlow" series. These books, less sensational in plot than many of Mrs. Wood's novels, have been particularly successful, perhaps because the scenes and characters are drawn largely from real life. Mrs. Wood's long residence at Worcester made her familiar with the life of the college boys, who haunt the precincts of the stately old cathedral, and she has introduced her knowledge of their pranks with very great effect. Her descriptions of the old city itself. Of the streets, of the cloisters, of the outlying villages and byways, are remarkably accurate, and remind one of the use which Charles Dickens made, in the same way, of Rochester and its cathedral.

            It is really extraordinary to see how large a part of Mrs. Wood's work is concerned with Worcester, and how well she could render, when she chose, the dialogue of the country and the customs of its people. The reason is, of course, that these things are true; that she gives us in these books a large part of her own experience, of her own life. Another group of her books is interesting for a similar reason - the novels in which she deals with business life, and the relations of employers to their men. Such are "A Life's Secret," which is the very interesting history of a strike; "The Foggy Night at Offord," "Mrs. Halliburton's Troubles," and several of the "Johnny Ludlow" stories, where incidents of the manufacturing districts of England have been introduced with very good effect, Mrs. Wood's own connection with glove manufacturers in Worcester having supplied her with ample materials for this kind of fiction. In "A Life's Secret" there is an extremely clever picture of the lower type of workman, and some excellent sketches of poor people and of the misery they suffer during the strike and subsequent lock-out.

            The third class of Mrs. Wood's books consists of what may be called works of pure imagination, with sometimes a slight touch of the romantic and supernatural - such as "The Shadow of Ashlydyat," "St. Martin's Eve," "Lady Adelaide's Oath," "Lord Oakburn's Daughters," "George Canterbury's Will," etc. From the literary point of view these books are less worthy than the others, but they are particularly well constructed and ingenious. There are no loose ends, and Mrs. Wood's skills in weaving a plot seems never to have diminished to the last day of her life. But her earlier and perhaps simpler work had more real value than even the books which display such great constructive skill. Mrs. Wood would possibly have taken a higher place amongst English novelists if she had avoided mere sensation, and confined herself to what she could do well - namely, the faithful and realistic rendering of English middle class life. She has had, perhaps, more popularity than any novelist of the Victorian age; and her popularity is justified by the wholesomeness and purity of her moral tone, the ingenuity and sustained interest of her plots, and the quiet truthfulness, in many cases, of her delineation of character.

            Her faults are those of the class for which she wrote; her merits are theirs also. It is no small praise to say that she never revelled in dangerous situations, nor justified the wrong-doing of any of her characters. When one considers the amount of work that she produced, and the nature of that work, it is amazing to reflect on the variety of incident and character which she managed to secure. Her plots often turned upon sad or even tragic events, but the sadness and the tragedy were natural and simple. There was nothing unwholesome about her books. She will probably be read and remembered longer than many writers of a far higher literary standing; and although fashions, even in fiction, have greatly changed since the days when "East Lynne" and "The Channings" made their mark, there is no doubt that they hold their place in the affections of many an English novel-reader. They neither aim high nor fall low: their gentle mediocrity is soothing; and they are not without those gleams of insight and intensity which reveal the gift of the born story-teller - a title of which Mrs. Henry Wood may well lay claim.

                                          



Text: A. Sergeant (ed.), Women Novelists of Queen Victoria's Reign, Hurst & Blackett:
                                                      London, 1897, pp. 174-192
Mistakes made by Adeline Sergeant
| | |
| --- | --- |
| 1. | East Lynne was not Wood's first work. It was her second novel, and she had written over 100 monthly contributions to journals in the ten years before East Lynne was published. |
| 2. | The correct publication dates for the collections of "Johnny Ludlow" stories are as follows: First Series (1874), Second Series (1880), Third Series (1885), Fourth & Fifth Series (1890). The Sixth (and final) series appeared in 1899, two years after Sergeant's article was written. |
| 3. | The "Johnny Ludlow" stories actually began to appear from January 1868 in the Argosy. |
| 4. | For the correct publication dates of the "Johnny Ludlow" collections see note 2. |
| 5. | This statement is plainly incorrect. Wood satirises the Mormons in Verner's Pride, share speculators in Adam Grainger various religious sects & miscellaneous targets in other novels. However, she is not naturally adept at satire., |